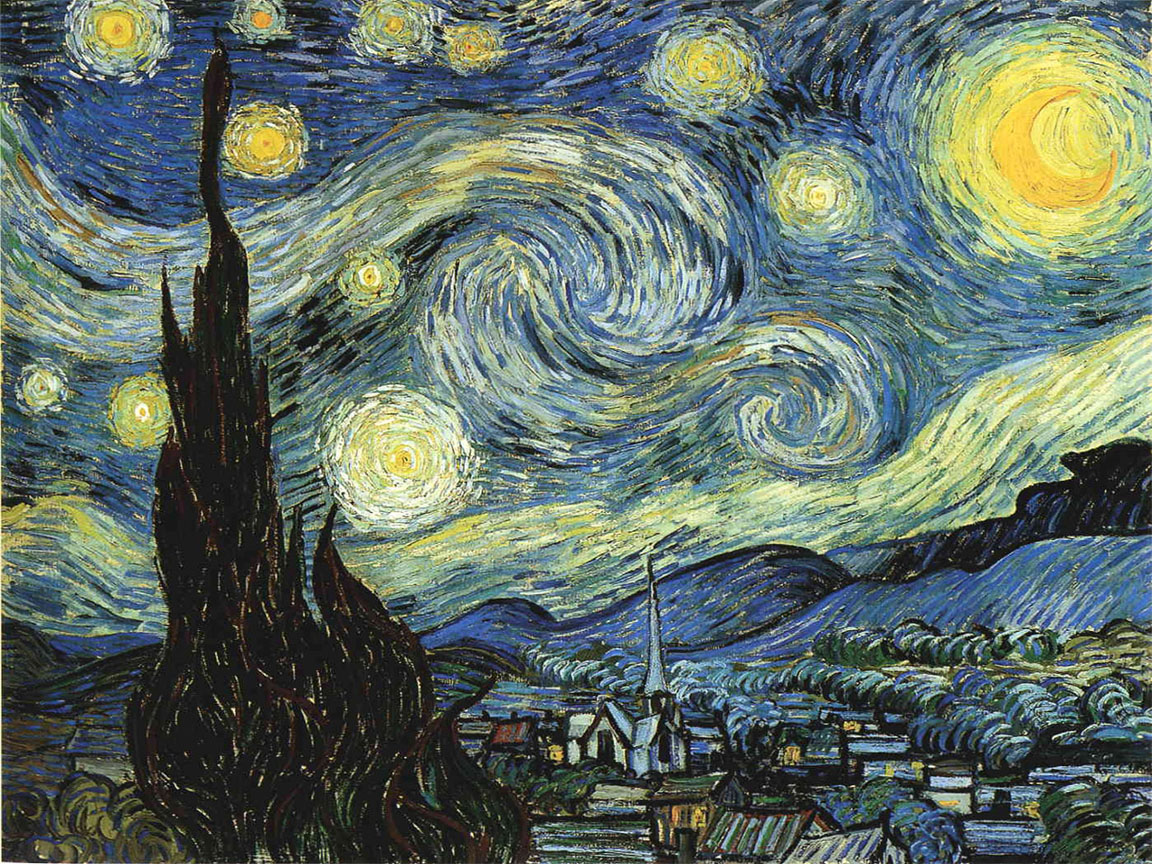 Dubai One
TV will show the movie "
Vicent & theo
" which will not be a full biography about the artist however its a movie I must see, Van Gogh is not an artist I knew about for long ,, about 7 years ago my interest in art & artists grew he came into the picture 2-3 years ago, and the key to me loving his work was "
Starry Night
" an amazing painting that made me admire him & look up information about the Artist & had lead me in late 2006 early 2007 not sure when! to buy a diary dedicated to him & his work that I carry with me all day long, along with an other diary for Dali which I will take a whole other post to write about, he is too one of my top listed artists.
This video is for a song done by
Don McLean
who
wrote & sang
it as a tribute to the Dutch Artist Vincent Van Gogh.. One day I hope to visit his
museum
: }
Now in that slide show a lot of his paintings are there and what I like about Van Gogh's work, his simplicity & you can see clearly in most of his work that he does not reflect a perfectly well painted image of life, he does not get the lines really exact & fine in drawing different thing like flowers, houses, people's faces, they are not symmetrical as most art work that generally people like, because of that I like his work & feel that its very true & close to the heart. His work's imperfection is very natural & the key to my admiration :}
The sad thing is that he had a sad life ,, and his art was not well appreciated in his life but after his death. It is sad that people do not realize that time does not go backwards, if you find something you like in life appreciate it the moment you see it, not after its gone!
Links that I will go through "meaning not just shuffle but read all the contents in all pages" when I have enough time & will talk about the Artist more:
1-
Van Gogh Gallery
2-
the Wiki
page, Vincent Van Gogh
3-
An other
Van Gogh Gallery except this one is "endorsed by the Van Gogh Museum in Amsterdam"
4-
A page
for Van Gogh in web museum,, which is from

the public's library and digital archive
. A site I truly enjoyed.
5-
Artchive dot com
has a
page for Van Gogh
with some nice resources ,, cool site didn't go through it all but is worth reading it all up if you are interested in art.
6- The
Vincent Van Gogh Museum
, the most important link of all, his work's home, not all but the biggest collection of it is there.
All of that information about a single artist is just amazing! and if it wasn't for the INTERNET I wouldn't have known so much!! I love the internet :D & books...